Here's what's coming up the week of June 17 – on the Morning Show on 88.5 KRFY. Airtime is 8 a.m. … and if you miss a show, you can hear a recorded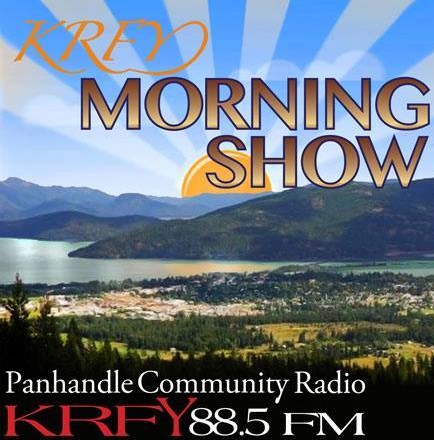 podcast of it later in the day, on our Podcasts page on this website.
Tuesday, June 18:  Host Phil Hough will be talking with Kalispel Tribe representative, Joe Maroney, about their environmental programs.  Airtime – 8 a.m.
Wednesday, June 19:  Host Chris and Suzy will be talking with Aric Spence and Rob Lindner, organizers of the upcoming Sandpoint Radius Film Festival.   Airtime  – 8 a.m.
Thursday, June 20: Morning Show hosts, Jim Healey and Jack Peterson will be visiting with Hannah Combs, executive director of the Pend Oreille Arts Council, about the upcoming 2019 ArtWalk event.  Airtime – 8 a.m.
Got a question for any of our Morning Show guests? We like to ask questions from listeners, but you need to get it to us in advance of the show! Call 208-265-2992 and leave a message or email us at [email protected]