The first week of June is going to be busy, with the annual KRFY member drive and a pile o' special events on air and in the studio!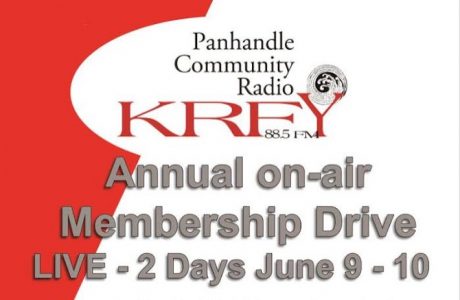 Tuesday, June 6: Join Morning Show hosts Phil Hough and Julie Kallemeyn. Their special membership week guests will be:
– Volunteer/listener Diane Miller.
– KRFY broadcasters Gail Fendley of Hump Day Cafe, and Jason Munzke  of Americana Back Roads.
– KRFY Board Member Jean Gerth.
Tune in at 8 a.m, on 88.5 KRFY listener supported community radio for North Idaho.
Wednesday, June 7: Join Morning Show hosts Suzy Prez and Chris Bessler. Their special membership week guests will be:
– Member listener Steve Sanchez.
– KRFY broadcaster Bernie Moser of Easy on a Wednesday Morn.
– KRFY Board Member Charlie Parrish.
Airtime is 8 a.m., right here on 88.5 KRFY community radio.
Thursday, June 8: Join KRFY Morning Show hosts Jack Peterson and Jim Healeyas they talk with their special membership week guests, to wit:
– Volunteer and listener Carrie Logan.
– KRFY broadcaster Mike Bauer of the 70s and 80s Show
– KRFY Board Member Julie Perchynski.
That's at 8 a.m on 88.5 Panhandle Community Radio.
Friday-Saturday, June 9-10: It's our annual membership drive extravaganza! Tune in to hear special interviews all day long with representatives from different community groups, underwriters, live on-air broadcast from local musicians, drawings for free stuff and your basic broadcasting fun. What's more, you are invited to visit our studio at 323 N. First Avenue to check us out and get in on the fun … want to do a shout out to your friends, live on the air? You can! Just come on by! We're putting the "community" into KRFY Community Radio… it's the perfect time to support KRFY by renewing your membership or becoming a member!
WE WANT TO HEAR FROM YOU – 88.5 KRFY LISTENERS! If you have a question for any of our morning interview guests, drop us an email at [email protected] or call and leave a phone message at 265-2992. We will ask your questions ON AIR during the Morning Show interviews.