KRFY Morning Show topics reach out and touch the town in the week of April 17, broadcasting each Tuesday, Wednesday and Thursday. Airtime for each Morning Show is 8 a.m. Plus, there are "bonus" interviews this week! Read on:
Tuesday, April 18: KRFY Morning Show hosts Phil Hough and Julie Kallemeyn will talk with eighth grade Waldorf student Tom Carty, his teacher Yvette McGowan and his mentor, KRFY Station Manager Suzy Prez. They will bring a picture of Tom's eighth grade internship at KRFY – and his exclusive interview with Sue Vogelsinger which will air on April 26. Tune in at 8 a.m. to listen live.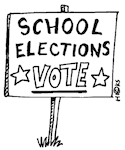 Wednesday, April 19 kicks off a series of three shows covering candidates for the Lake Pend Oreille School District. Morning Show hosts Suzy Prez and Chris Bessler will talk with Lake Pend Oreille School District Zone 5 trustee candidates Anita Perry and Cary Kelly. Airtime is 8 a.m. As the series continutes, on the May 3 Morning Show, Zone 3 candidates Lonnie Williams and Victoria Zeischegg will be interviewed; on May 10, candidates for Zone 2, Richard Miller and Gary Suppiger.
Got a question for the candidates? Send it to us in advance of the show and we'll try to ask it on air. Questions must be about issues, not personal matters. Click to email us a question.
Wednesday bonus interview! Join host Suzy Prez as she talks with bandmembers from the group Yarn, in a preview of their performance coming later that evening at the Panida. Airtime is 4 p.m.

Thursday, April 20: Tune in to the Thursday edition of the KRFY Morning Show with host Jack Peterson as he talks with the local singers from the Threshold Choir, which partners with Bonner General Health Community Hospice with the aim to bring comfort to the bedsides of those individuals at the threshold of life and death. Listen in at 8 a.m. for the live show.
Friday, April 21: Tune in at 8 for a KRFY Extra interview with host Suzy Prez and guests Wayne Pignolet and David and Lisa Barth from Team Autism 24/7. The team will be telling of a special movie playing at the Panida that evening. Airtime is at 8 p.m.
And don't miss … KRFY's new weekly show, Easy on a Wednesday Morning, with host Bernie Mosher DJing the songs bright 'n' early to start Wednesday with a lighter spirit. The new show airs each Wednesday 5-6:30 a.m.