Here's what's coming up the week of April 22 – on the Morning Show on 88.5 KRFY. Airtime is 8 a.m. … and if you miss a show, you can hear a recorded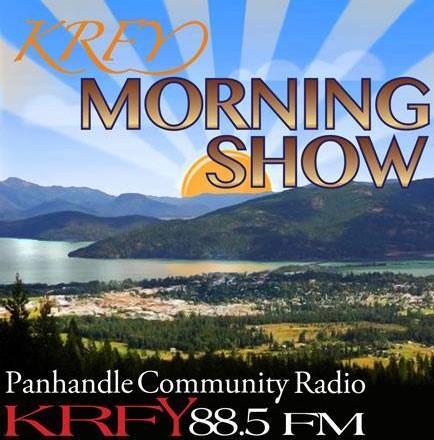 podcast of it later in the day, on our Podcasts page on this website.
Tuesday, April 23:  Join hosts Phil Hough and Julie Kallemeyn and their guests Mandy Evans from Panhandle Animal Shelter and Dennison Webb from Selkirk Outdoor Leadership and Education, who will talk about the upcoming state fundraiser – Idaho Gives. Airtime – 8 a.m.
Wednesday, April 24:  The Wednesday Morning Show hosts Chris Bessler and Suzy prez will present a recorded interview Idaho State Representatives Sage Dixon, and Heather Scott, and Senator Jim Woodward. Airtime 8 a.m.
Thursday, April 25: Join Morning Show hosts, Jim Healey and Jack Peterson, who will visit with Kirsten Longmeier, organizer of the upcoming Area Senior Center fundraiser. Airtime 8 a.m.
Got a question for any of our Morning Show guests? We like to ask questions from listeners, but you need to get it to us in advance of the show! Just drop us an email at [email protected] or call and leave a phone message at 208-265-2992.