Here's what's coming up the week of May 13 – on the Morning Show on 88.5 KRFY. Airtime is 8 a.m. … and if you miss a show, you can hear a recorded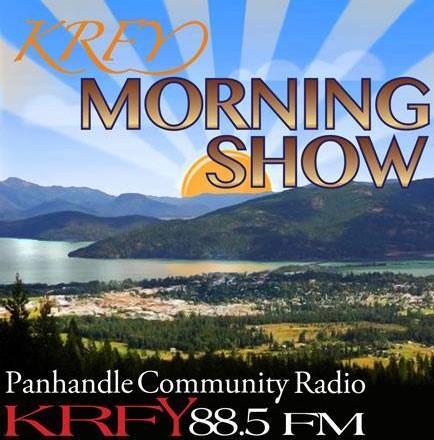 podcast of it later in the day, on our Podcasts page on this website.
Tuesday, May 14:  Join hosts Phil Hough and Carrie Logan and their guests, Joe Wassif, psychologist and Natasha Splein Talbott nurse practitioner from Bonner General Health, who will talk about May Mental Health Month. Airtime – 8 a.m.
Wednesday, May 15:  Wednesday Morning Show hosts Chris Bessler and Suzy Prez will present two interviews.  Alli Emch, Bonner General Health Stroke coordinator. A second interview with West Side School District officials about the upcoming school levy. Airtime  – 8 a.m.
Thursday, May 16: Join Morning Show hosts, Jim Healey and Jack Peterson and their guest Ellen Weissman from Sandpoint Area Senior who will talk about the upcoming Panida fundraiser:  Memories of a Legend with Jerry Kramer. Airtime – 8 a.m.
Got a question for any of our Morning Show guests? We like to ask questions from listeners, but you need to get it to us in advance of the show! Call 208-265-2992 and leave a message or email us at [email protected]