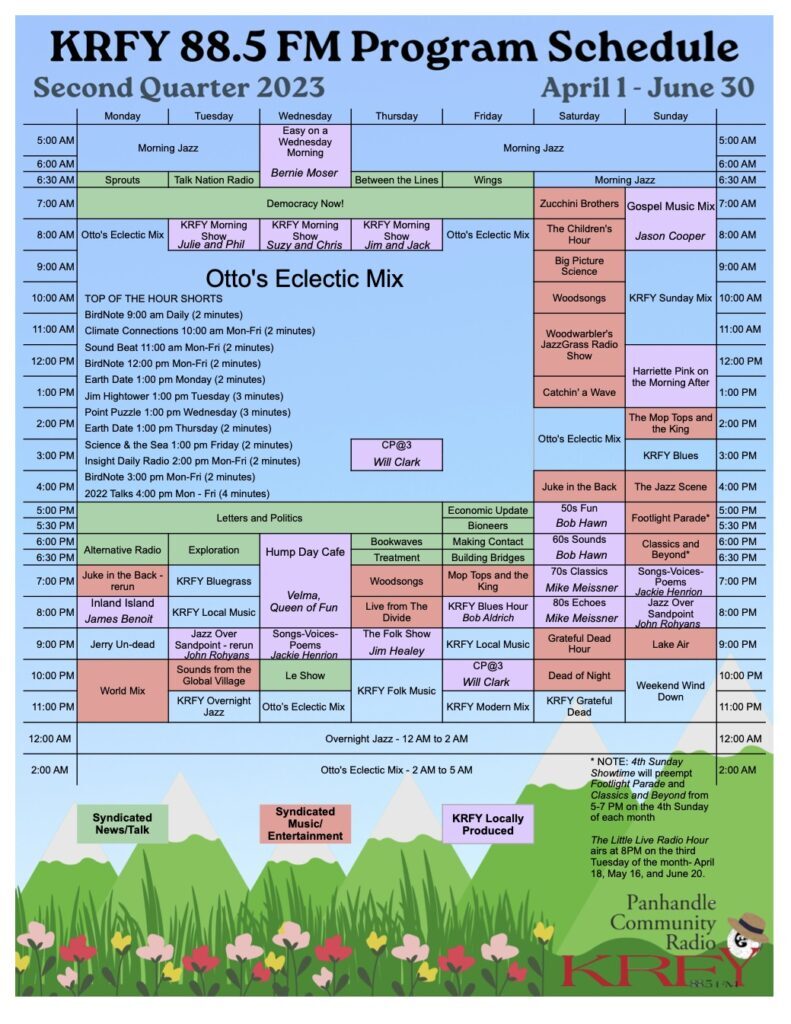 See what's on air every hour of every day on KRFY! View above or click below to enlarge the daily program schedule, and read below for program descriptions. Got a comment or idea for programming? We want to hear it»
• Right-click to view larger program schedule»
• Right-click to view larger program schedule»
———
PROGRAM DESCRIPTIONS
Reference grid above for air times. Local programming in white.

4th SUNDAY SHOWTIME – This once a month show, hosted by Don Childress, features the best of Broadway show tunes with commentary.
ALTERNATIVE RADIO – A public affairs program that provides alternative analysis and views of the news with David Barsamian.
BETWEEN THE LINES – A weekly, half-hour syndicated news magazine featuring progressive perspectives on national and international political, economic, and social issues.
BIG PICTURE SCIENCE – A program that connects ideas about the origins, the behavior, and the future of life and technology on earth in surprising and playful ways.
BIONEERS – A look at current environmental issues.
BOOKWAVES – Produced in Berkeley, California, this half-hour program is about books and their authors.
BUILDING BRIDGES – Radio from the grassroots, a weekly news magazine from community stations across the country.
COMMUNITY CONVERSATIONS – Locally hosted interviews, pre-recorded outside our studio and airing as a stand-in for our usual Morning Show that is on hiatus until coronavirus restrictions are eased.
CP at 3 –  Hosted by high school student Will Clark with content and music geared to high school age listeners.
DECADES SHOW – 50's Fun and 60's Sounds, showcasing the golden age of Rock and Roll, with host Just Plain Bob, 70's Classics hosted by Mike Meissner featuring the decade that changed the face of rock and roll music, 80's Echoes spinning songs from the age of alternative rock.
DEMOCRACY NOW! – With Amy Goodman.
EASY ON A WEDNESDAY MORNING – Ease into the new day with music to lighten the spirit – with host Bernie Moser.
ECONOMIC UPDATE – A weekly show about personal and global economy.
EXPLORATION – Professor of Applied Physics Michio Kaku with comprehensive up-to-date science news about the rapidly changing world of science.
FOLK SHOW – Host Jim Healey showcases the Folk Era with the best of classic folk music with historic commentary.
FOOTLIGHT PARADE – Host Bill Rudman's weekly program showcasing the best of Broadway and Hollywood.
GOSPEL MUSIC MIX WITH DR. JULIE – Host Dr. Julie brings moving and inspiring gospel music each Sunday morning.
GRATEFUL DEAD HOUR – Sit back, relax, and enjoy an hour of Dead music from David Gans' extensive catalog. David is one of the nation's leading authorities on the Dead and has authored several publications on the band.
HARRIETTE PINK AND THE MORNING AFTER:  A mellow Sunday brunch show with an eclectic mix of classic rock, R&B, blues, folk, and bluegrass. 
HUMP DAY CAFÉ – Host Velma Queen of Fun brings an extensive mix of blues, jazz, rock and whatever suits her to KRFY to entertain in the middle of the week.
JAZZ OVER SANDPOINT  –  Host John Rohyans brings big band to bebop, Latin to cool, with great artists performing the best of classic jazz.
JAZZ SCENE – Host Jake Longwell offers listeners an eclectic mix of contemporary and traditional jazz, new-age, fusion and world music.
JERRY UN-DEAD – The Grateful Dead was not the only band that Jerry Garcia played in. Chill out with Jerry as he strays from the Dead to play bluegrass, reggae, and blues with other musicians.
JUKE IN THE BACK – Between 1946 and 1954, rhythm and blues laid the tracks for what was to become "rock and roll." Matt the Cat will share the records that you couldn't hear on the jukebox in the front of the establishment.
KRFY LOCAL MUSIC SHOWS – Our own programming produced in-studio! Includes these:  CLASSICAL, OTTO'S  ECLECTIC MIX, MORNING JAZZ, OVERNIGHT JAZZ, HOUSE MIX, MODERN MIX, SUNDAY MIX, BEATLES, REGGAE, BLUEGRASS, GOSPEL, WEEKEND WIND DOWN, and MUSIC FOR CHILDREN.
LAKE AIR – From the picturesque Finger Lakes region of New York state come Lake Air, a mix of contemporary jazz, new age, and acoustic music just right for relaxing with host Jake Longwell.
LE SHOW – Host Harry Shearer brings wildly clever, iconoclastic stew of talk, music, and political commentary, readings of inadvertently funny public documents or trade magazines and scripted skits.
LETTERS AND POLITICS – Host Mitch Jeserich from Pacifica Radio Network looks at burning political issues and debates, and their historical context within the United States and worldwide.
LIVE FROM THE DIVIDE – Originating from Bozeman, Montana, a "live" celebration of the American songwriter, focusing on local and regional songwriters.
MAKING CONTACT – Magazine/documentary-style public affairs program produced by National Radio Project.
MOP TOPS AND THE KING – An independent, one hour show featuring the music of The Beatles & Elvis Presley with some fun surprises.
MORNING SHOW at 88.5 KRFY – Locally produced and hosted interviews, events calendar, weather and current events to inspire and inform. On hold as of late March due to coronavirus restrictions. The Morning Show will return when it is safe to bring guests back into our studio.
ON BEING – Hosted by Krista Tippett presenting interviews looking at deep thinking, moral imagination, social courage and joy.
ROCKABILLY 'N' BLUES RADIO HOUR – Celebrates rockabilly, blues, roots, surf, and early rock 'n' roll.
SONGS-VOICES-POEMS – Sandpoint songwriter Jackie Henrion shares her perspectives while playing songs, poetry, writing tips and community writings.
SPROUTS – A weekly half-hour program that features radio productions from community radio stations and local media groups across the country.
SOUNDS FROM THE GLOBAL VILLAGE – Host Jake Longwell brings traditional, folkloric, and contemporary music, includes scratchy field recordings from the early twentieth century to the latest fusion of music and culture from around the world.
TALK NATION RADIO – Progressive news and analysis.
TREATMENT – In Hollywood, a "treatment" is a concise overview of a screenplay. Film critic Elvis Mitchell turns the tables and gives the "treatment" to some of the most influential and innovative forces creating movies, art, and entertainment.
WINGS – News program from WINGS: Women's International News Gathering Service.
WOODSONGS OLD-TIME RADIO HOUR – A live audience celebration of grassroots music and the artists who make it.
WOODWARBLER'S JAZZGRASS RADIO – Explores the sonic continuum between traditional bluegrass and all that jazz connotes in this two-hour weekly program.
ZUCCHINI BROTHERS – A weekly kid's music show that is 100% healthy & fun, with a focus on self-esteem, health, and environment.
———————————
RECURRING SHORTS, 2 MINUTES EACH AT TOP OF THE HOUR:
BirdNote: 9:00 am,  Mon. – Fri.                                                                                 Climate Connections: 10:00 am, Mon. – Fri.
Sound Beat: 11:00 am, Mon. – Fri.                                                                                BirdNote:  Noon, Mon. – Fri.                                                                                            Jim Hightower: 1:00 pm, Tues.
Point Puzzle: 1:00 pm, Wed.
Record Bin Roulette: 1:00 pm, Thurs.
Science and the Sea: 1:00 pm, Fri.
Insight Daily Radio: 2:00 pm, Mon. – Fri.
Earth Date:  1 pm, Mon.                                                                                        BirdNote:  3 pm, Mon. – Fri .                                                                                        2020 Talks:  4 pm Mon. – Fri.