KRFY Morning Show hosts Jim, Jack, Chris and Suzy invite you to tune in each Tuesday and Thursday morning at 8:00 a.m. for interviews, news and views that will inform and inspire you.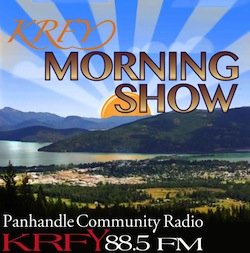 Tune in Tuesday, December  for the KRFY Morning Show when host Suzy Prez will talk with Maren and Julia Andrick from the Sandpoint Waldorf School about the school's annual upcoming Christmas Faire and Children's Festival.  That's at 8 a.m. on 88.5  KRFY.
Then on Thursday, December 4, join host Jack Peterson and guests Tom Dabrowsky and Dave Bannister of the Sandpoint Lions Club. They will be telling about the Lions' amazing Toys for Tots community giving program now under way. That's on 88.5 KRFY at 8:00 a.m.
KRFY listeners, we want to hear from you! If you have a question for any of our morning interview guests, drop us an email at krfyradio@gmail.com or call and leave a phone message at 208-265-2992. We will ask your question ON AIR during the interview!