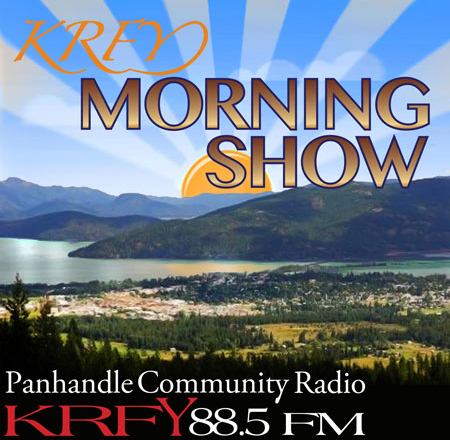 KRFY Morning Show hosts, Jim, Jack, Chris and Suzy invite you to tune in each Tuesday and Thursday morning at 8:00 AM. Enjoy interviews, news and views that will inform and inspire you.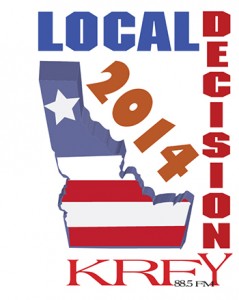 On Tuesday, September 30, the KRFY Morning Show kicked off a special election series, Local Decision 2014. Each Tuesday at 8 a.m., right up to November 4 Election Day, hosts Suzy Prez and Chris Bessler will cover contested local races, as follows:
Tuesday, Sept. 30: Commissioner District 1
Glen Bailey (R) and Steve Johnson (D)
Missed it? It will rebroadcast Friday at 5 p.m.
Or, go listen to podcast of this show»
Tuesday, Oct. 7: District 1 House Seat A
Laura Bry (D) and Heather Scott (R)
Tuesday, Oct. 14: District 1 House Seat B
Sage Dixon (R) and Andrew Sorg (D)
Tuesday, Oct. 21: District 1 Senate
Christian Fioravanti (Constitution) and Shawn Keough (R)
Tuesday, Oct. 28: Bonner County Clerk
Ann Dutson-Sater (D) and Michael Rosedale (R)
Tuesday, Nov. 4: Election Day special
Daily Bee publisher David Keyes will help provide an overview of all races as voters head to the polls.
Also on KRFY:
Host Suzy Prez aired a pair of bonus interviews at 9 a.m. on Tuesday, September 30.  Her guests were Pend Oreille Arts Council Executive Director Debbie Love, plus KRFY broadcaster Jackie Henrion talked about her new show, Songs-Voices-Poems, that begins airing each Sunday at 7 p.m., beginning October 5.
Coming up for the Thursday, October 2 KRFY Morning Show,  join Jack Peterson as he welcomes Joe Zimmerman, summer intern with the Friends of Scotchman Peaks Wilderness organization.  This interview is at 8 AM on 88.5 KRFY.
Finally … we want to hear from YOU, our KRFY listeners!
If you have a question for any of our morning interview guests, drop us an email at krfyradio@gmail.com  or call and leave a phone message at 265-2992. We will ask your question on air during the interview.