The Morning Show – North Idaho News of the Week

INFORMATIVE – INSPIRING – INTERESTING – LOCAL
Here is what's coming up September 26 – 29, 2023 on the Morning Show, and North Idaho News of the week, our live current affairs programs that airs at 8 a.m. each day on 88.5 KRFY Community Radio.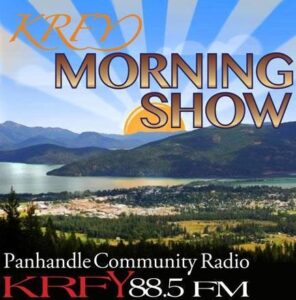 Tuesday, September 26:   Join host Julie Kallemeyn and her guest Kyle Nagy from the University of Idaho Organic Research Center.  They will be talking about Fall events.

Wednesday, September 27: Host Suzy Prez will be talking with Vanessa Stanley from Winter Ridge Natural Foods, about the upcoming Annual Neighborhood Fair.

Thursday, September 28:  Jack Peterson and Jim Healey will be talking with Sandy Compton and Martin Faber, about the book, Squaw Peak Diaries.  


New! Friday, September 29: North Idaho News of the Week. This new weekly program, "North Idaho News of the Week" features program hosts and local journalists from the Sandpoint Reader and Daily Bee dissecting local headlines in a concise, 30-minute review of the biggest local news of the past seven days. Tune in Fridays at 8 a.m. on 88.5 FM… or stream it live, right here on KRFY.org.
Did you miss the September 22 show? Click to hear podcast.
INFORMATIVE – INSPIRING – INTERESTING
Tune in to 88.5 KRFY at 8 a.m. every Tuesday thru Friday to hear the live Morning Show and new "North Idaho News of the Week."  If you miss a show, hear recorded interviews, posted a few hours after air time, on our Podcasts page»