Here's what's coming up the week of April 29 – on the Morning Show on 88.5 KRFY. Airtime is 8 a.m. … and if you miss a show, you can hear a recorded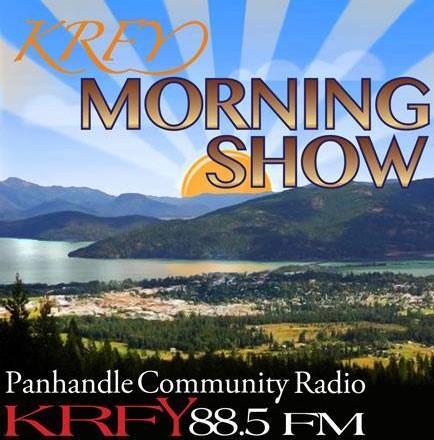 podcast of it later in the day, on our Podcasts page on this website.
Tuesday, April 30:  Join hosts Julie Kallemeyn and Suzy Prez as they sit down with folks from Leadership Sandpoint, organizers of the upcoming fundraiser benefiting Bonner Homeless Transitions.   Airtime – 8 a.m.
Wednesday, May 1:  Wednesday Morning Show hosts Chris Bessler and Suzy Prez will present two interviews. The first one is with Sandpoint Single Adult Ministries.  A second interview will feature folks from Responsible Growth NE Washington. Airtime  – 8 a.m.
Thursday, May 2: Join Morning Show hosts, Jim Healey and Jack Peterson, and their guest Heather McCoy, who is organizing the upcoming Hospice Kids Camp concert.  Airtime – 8 a.m.
Got a question for any of our Morning Show guests? We like to ask questions from listeners, but you need to get it to us in advance of the show! Call 208-265-2992 and leave a message or email us at [email protected]