After a few days in which our radio signal was down, KRFY Community Radio is back on the air waves at 88.5 FM on your radio dial.
Our broadcasting did continue via our live stream here on our website, but the tower where we leased space for our antenna was being removed, and it necessitated a move of our antenna to a temporary location on the downtown building that houses our studio. We're now broadcasting at lower power; it is producing a good signal in Sandpoint and nearby environs, but may be impacting reception for our listeners farther out in the county.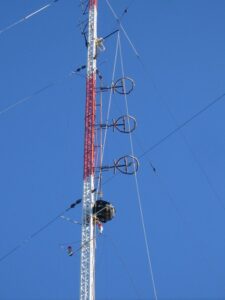 To get back up to full power, we'll have another move coming sometime in the upcoming month, after the FCC approves a move of our antenna to a new permanent location on a tower space we're leasing from the Lake Pend Oreille School District (big THANKS to LPSOD). We'll be able to manage that move with much less downtime of the radio signal.
Thanks to our associate station manager, Jack Peterson, for his tenacious hard work facilitating a quick "fix" to get our broadcast signal back on the air. Here's a picture of the crew retrieving our antenna from the tower before its removal.
And remember listeners: Anytime the broadcast signal is interrupted, check our online stream; see the link on this page, or tell your digital assistant "play KRFY."