Here's what's coming on the Morning Show, our live current affairs program that airs at 8 a.m. each Tuesday, Wednesday, and Thursday on 88.5 KRFY Community Radio.
INFORMATIVE – INSPIRING – INTERESTING
>>Tuesday, February 7: Join hosts Julie Kallemeyn and Suzy Prez for GARDEN LIFE: Guests will be David Keys, Newport Mushroom Company and Kyle Nagy, with the University of Idaho Organic Orchard.
>>Wednesday, February 8: Join hosts Chris Bessler and Suzy Prez as they talk with East Bonner County Library director, Viktor Sjoberg.
>>Thursday, February 9: Hosts Jim Healey and Jack Peterson will be talking with Nikki Klein from the Sandpoint Area Seniors.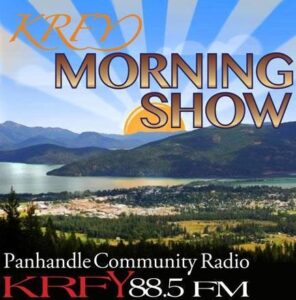 Did you miss a live show?  Hear recorded interviews, which are posted a few hours after air time, on our Podcasts page»