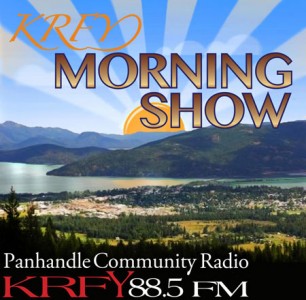 There's a terrific array of topics and guests on the KRFY Morning Show for the week of January 22. Catch our fascinating current event shows every Tuesday, Wednesday and Thursday live at 8 a.m., over the air at 88.5 – or right here via our "Live Stream" button at right. Can't tune in right at 8? Hear the recorded shows later each day, posted to our Podcasts page»
Tuesday, January 23: Join Morning Show hosts Phil Hough and Julie Kallemeyn as they speak with Spokane writer and naturalist Jack Nesbitt, author of many books on Northwest human and natural history including his new book of lively essays, "Ancient Places." Airtime is 8 a.m, on 88.5 KRFY.
Wednesday, January 24: The state of the city will be the topic as hosts Suzy Prez and Chris Bessler talk with Sandpoint Mayor Shelby Rognstad about city progress in 2017 – and what's coming up in 2018. Tune in at 8 a.m., to 88.5 KRFY.
Thursday, January 25: Join hosts Jack Peterson and Jim Healey for a deep dive into the local theater scene, with guests Ben Olson and Madeline Elliott discussing their upcoming play at the Panida, "Death of a Small Town." Catch it live, at 8 a.m. on 88.5 KRFY.
GOT A QUESTION FOR ANY KRFY GUEST? If you have a question for any of our morning interview guests, drop us an email at [email protected] or call and leave a phone message at 28-265-2992. We like to ask listeners' questions ON AIR during the Morning Show interviews!