88.5 KRFY Morning Show is now broadcasting live on the air, each Tuesday and Thursday at 8 a.m., presenting current weather and community events, along with recorded Community Conversation recorded interviews of community interest. We are pleased to present live our locally produced community affairs program, the MORNING SHOW.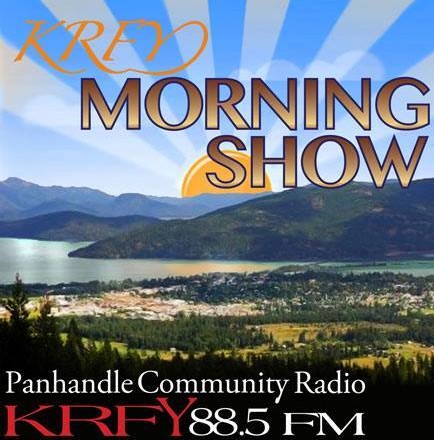 Here's what's coming this week on the  MORNING SHOW, airing at 8 a.m. Tuesday, and Thursday on 88.5 KRFY Community Radio.
 – INFORMATIVE – INSPIRING – ENTERTAINING
Tuesday, September 28
Host Julie Kallemeyn will be back in the studio to bring the local weather, events, and news, along with a recorded interview Sandpoint Parks and Recreation. Guests include city personnel:  Kim Woodward, Jennifer Stapleton, and Maeve Nevins-Lavtar.  Airtime – 8 a.m.
Thursday, September 30
Host Chris Bessler will be in the studio with current weather, local news and events along with a recorded interview.  Chris starts LOCAL DECISION NOVEMBER 2021 with Sandpoint City Council candidate interviews.  Airtime – 8 a.m.
Tune in to be informed and inspired, on 88.5 KRFY Community Radio.
"And if you miss any of our Community Conversation recorded interviews, we post a  recording of each interview later on in the day, and you can find it on our Podcasts page on this website."