88.5 KRFY Morning Show is now broadcasting live on the air, each Tuesday and Thursday at 8 a.m., presenting current weather and community events, along with recorded Community Conversation recorded interviews of community interest. We are pleased to present live our locally produced community affairs program, the MORNING SHOW.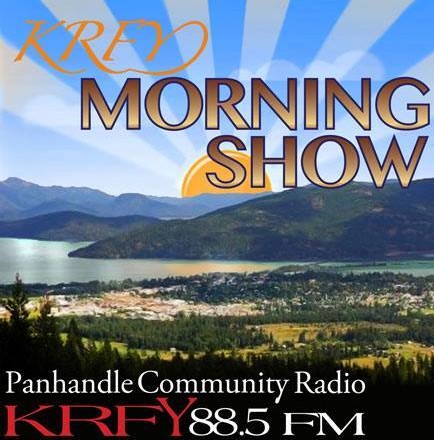 Here's what's coming this week on the  MORNING SHOW, airing at 8 a.m. Tuesday, and Thursday on 88.5 KRFY Community Radio.
 – INFORMATIVE – INSPIRING – ENTERTAINING
– Tuesday, June 22, 2021 –
Join Julie Kallemeyn as she hosts the MORNING SHOW live, bring weather, and community news and event, along with a recorded COMMUNITY CONVERSATION interview with Friends of Scotchman Peaks Wilderness about their Summer Programs and Activities. Guests include new Montana Coordinator, Amy Pearson and Summer Programs Coordinator, Henry Jorden. Airtime 8 a.m.
– Thursday, June 24, 2021 –
Join Morning Show host Suzy Prez, live in the studio, as she presents the weather, community events along with some recorded interviews. Interviews are with two KRFY Underwriters who are both businesses that are owned and operated by a brother team. Evans Brothers Coffee Roaster and Cafe with Rick and Randy Evans. A second interview is with brothers Cory and Eric Donenfeld, who own Northwest Auto Body and Towing. Airtime 8 a.m.
Tune in to be informed and inspired, on 88.5 KRFY Community Radio.
"And if you miss any of our Community Conversation recorded interviews, we post a  recording of each interview later on in the day, and you can find it on our Podcasts page on this website."